Get ready, East Coast!
This in-person, two-day event is based on our sold-out series of seminars that teaches you how to utilize an everyday-carry (EDC) knife for self-defense.
About 99% of other knife classes start with the training blade already in your hand — yeah, that's the EASY part! 
On the streets, the most difficult (and important) part is being able to create space, earn your draw, and accurately use your weapon in time. Why? Because if you can't effectively draw your blade, you might as well not carry it in the first place!

Our seminar will also explore the ethics and legalities of carrying and using an edged weapon — a topic that most instructors fail to address ...
... but can dramatically affect your life after any violent encounter — legally, financially, and psychologically.

This program is for prepared and responsible folks who currently carry a blade or are looking into carrying a blade for self-defense purposes.
Also, this course will be a good refresher for law enforcement and military who might carry a blade as a backup weapon.

Tiga Tactics co-founder, Dr. Conrad Bui, featured in an article about defensive folding knives in Recoil Offgrid Magazine.
This live and in-person event will take place on the following dates and times:
Saturday, May 14, 2022:
9 a.m. to noon

1-hour lunch break

1 p.m. to 5 p.m.




Sunday, May 15, 2022:

9 a.m. to noon

1-hour lunch break

1 p.m. to 3 p.m.
We will be training face-to-face at the Academy of Traditional Asian Fighting Arts (or ATAFA for short) in Maryland:
Academy of Traditional Asian Fighting Arts
7908 Harford Rd.
Parkville, MD 21234

Fixed and Folding Knife Fundamentals

Legalities

Ethics



Considerations for EDC knife selection

Training knives overview

Knife carry concerns


How to draw your weapon quickly, safely, and effectively


Deployment
Drawing and deploying the knife during hostile conditions



P.R.O. Method of self-defense

5 basic strikes and targeting 

5 strikes with knife draw



The concept of "slashing to thrust and thrusting to slash"

Silat Square Concept



Stabbing

Forward Grip

Reverse Grip



Slashing


Forward Grip

Reverse Grip


Efficiency and Movement

Physiology of the target and medical implications

Review basic angles of attack and how they relate to the targets



Footwork: What and Why

Triangle Footwork

Zero Pressure

Footwork drills for skills 

Footwork drills with knife

Free Flow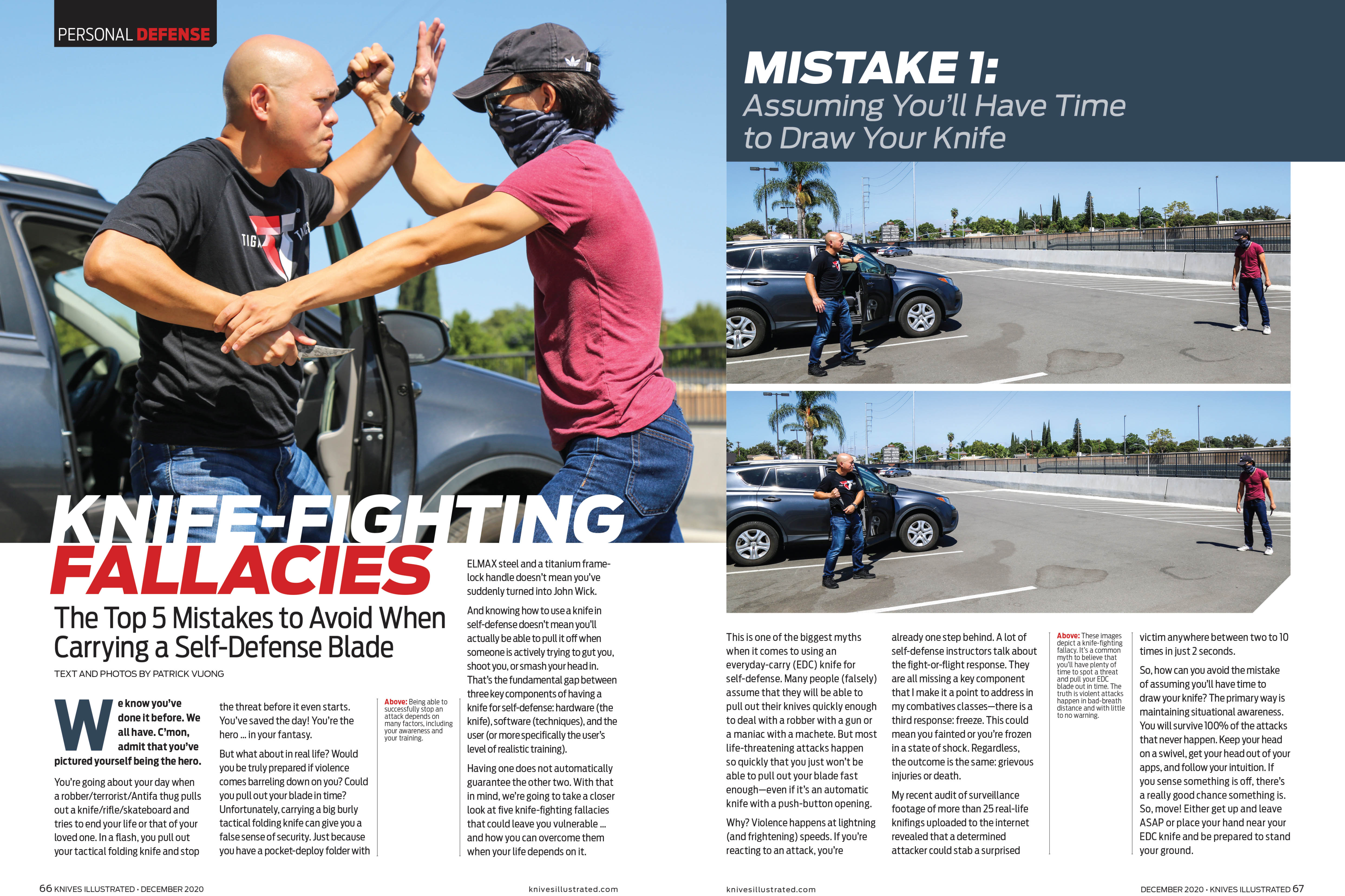 The December 2020 issue of Knives Illustrated featured Tiga Tactics co-founder Patrick Vuong with Rounders MMA Fullerton head coach Joe Kim.

Failure Considerations

Why you shouldn't be weapon fixated and should have backup "weapons"

What is the "Alive Hand" and the "Alive Body" and how that relates to knife fighting

Alive hand

Elbows & Knees



Folder as Pocket Stick/Kubotan


Empty hands to edged weapons draw practice, incorporate angles of attack, Silat square and footwork


Final Review and Training Considerations

Stealth draw

Fight to draw

Draw to slash/stab



Footwork

Draw from different positions (e.g. prone, supine, etc.)



Pocket stick practice





"Knife-Slinger Alley" drills

Multiple attacker drills



Debrief

Aftermath of a violent encounter

Daily training considerations

Future training considerations (knife vs. knife, knife vs. firearm, knife vs. blunt weapon, knife grappling, double knives, force-on-force training and improvised edged weapons)


Dr. Conrad Bui
Co-Founder | Chief Training Officer | Chief Bone-Cruncher
Former bar bouncer and security professional
Guro (full instructor) in the bladed art of Kali

Guru Tua (advanced instructor) in the bladed art of Pentjak Silat Serak
Sigung (master-level instructor) in the bladed art of Kuntao Silat de Thouars
Brazilian Jiu-Jitsu black belt and gold medalist
Muay Thai coach at World Team USA
5th-degree black belt in Tae Kwon Do and American Freestyle Karate
Certified pistol instructor
Former Colorado State Champion in sport karate


Doctor of Chiropractic


Patrick Vuong
Co-Founder | Chief Executive Officer | Chief Keyboard Monkey
Authorized instructor in the bladed art of Pekiti-Tirsia Kali

2nd-Degree black belt in Lai Chung Chuan Fa

1st-Degree black belt in Kenpo Karate

Certified pistol instructor
Instructor of women's self-defense since 2008

Former senior editor of Recoil Magazine, where he studied under former and current Special Operations Forces instructors in advanced tactical firearms, executive protection, and force-on-force training

Former columnist for Black Belt Magazine


Published knife reviewer since 2006



Our EDC Edged Weapon Seminar is quite popular and has sold out every time we've taught it.
Admission to this two-day event is $300.

However, for a limited time, we're offering admission to our seminar at deep discounts based on a tiered system — rewarding those who reserve their slot early:

Save-the-Date Special:
$150
Now through April 6, 2022

Early Bird Discount:
$200
April 7, 2022, through April 27, 2022
Pre-Registration:
$250
April 28, 2022, through May 11, 2022

Regular Price:
$300
May 12, 2022, and after
But That's Not All!
Enroll today and you'll get the following FREE bonuses:
Access to Our Exclusive and Private Facebook Group (Value: $97): You will be amazed at the people actively participating in this group; like-minded individuals who discuss personal protection in a supportive and positive ways. No trolls here.

Training Manual (Value: $17): This eBook gives you 31 pages of instruction and drills (with pictures) so you can train anywhere, at any time, so long as you have access to a mobile device or computer. Or, simply print it out and carry it in your workout bag.

Unlimited Email Support (Value: Priceless!): Have a question? Something not clear? Simply email us and we will answer your question personally. We will not leave you hanging.
That's a seminar package valued at $414 ... for ONLY $250!
But act now! This Pre-Registration Price is only good through May 11.
Are You Eligible for Our Heroes Discount?
We're also giving an additional 15% discount to those who put themselves in harm's way for the greater good!
So, if you're an American or Canadian who is:
A first responder (i.e. a firefighter, paramedic, EMT, lifeguard, etc.)


Law enforcement  (sworn or civilian, from local to federal)
 
Military (active duty or reserve)


A veteran


A frontline healthcare worker (i.e. a nurse, doctor, tech, receptionist, etc.) …


 … you can get an additional 15% off the lowest available price. (Cannot be combined with any other promo code.)

If you qualify, and you want in on the discount, please let us know BEFORE enrolling by emailing us at info [at] tigatactics.com and we'll take care of you. (Be sure to replace the [at] with the @ symbol in our email address.) 

It's the least we can do for your service. But you gotta act fast because of ...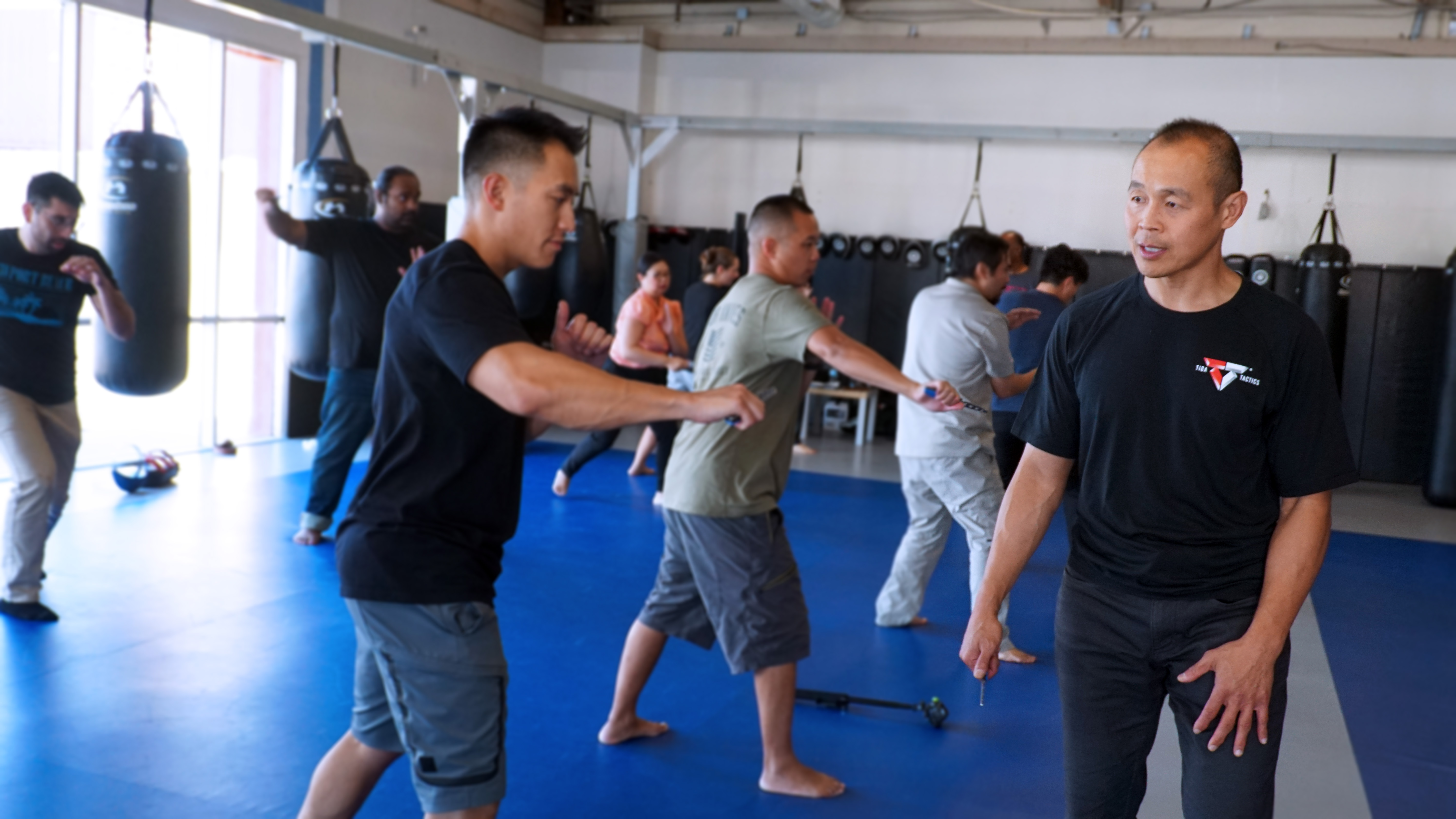 To ensure our high standards of instruction and personal mentorship, we limit the size of our seminars to ONLY 30 students maximum. 
And keep in mind our previous seminars have all sold out prior to the start of the events.
So don't delay — sign up now! Hit the red button below.

Save money and secure your slot before it sells out!
If you are not satisfied at any time during your session, we will refund 100% of your admission fee. NO questions asked. 
Seriously. That's how confident we are in how valuable you'll find our "EDC Edged Weapon" program.

What Our Students Are Saying
Steven Barlow
"I can say that the skills taught here were very much in line with my experiences as a police officer. As a matter of fact, the technique taught here about striking at your attacker while stepping back to create the opportunity to deploy your knife was exactly what we taught our officers during firearms training in order to be able to draw our pistols. It can SAVE YOUR LIFE."
Matthew Baker
"The content was presented in a universal way that was accessible and beneficial to all skill levels. I loved the concept and approach to empty-hand combatives in a weapons-based environment, utilizing moves that have a high probability of success under stress and a low probability of injury."
Paul Tirajoh
"With the combatives, movement, and accelerated heartbeat/duress thrown in during the class, I was finding that my successful deployments weren't quite what I expected them to be. From partial deployments to straight up dropping my knife on the ground, knowing these failures and training them makes me feel much more confident and competent."
Steve Myers
"The system is great how it builds from the basic to the more advanced. The classes that I had in the past were lacking in basic information, and rubber knives came out and "lets go at it!" No thought of what type of knife to carry and how to operate with it. In grading [this course] I give it 100%."
Experience what our students are talking about
Reserve your slot NOW before the seminar sells out!