Street Combatives Seminar
Practical Punch Defense and No-B.S. Antigrappling Skills So You Can Protect Yourself and Your Loved Ones — Whether You're on Your Feet or Your Back
Random acts of violence aren't just happening in downtowns and sketchy neighborhoods.
Unprovoked attacks are happening all over the United States.
Big cities. 
Small towns.

And everywhere in between.
In the past three years violent crime has happened more frequently and in more locations than it ever has in decades.
But if you've been reading the reports, watching the news, and paying attention to your own hometown, you probably have a good sense of this scary trend already.
So, the point of all this is to say that ...

Anyone can become a victim, anywhere at any time.



As you can see in the above video of recent urban ambushes, brutal violence happens everywhere.
Often the victim is blindsided by a vicious suckerpunch and — if he's not knocked out by the fall — gets beaten or stomped on as he struggles on the ground.
Basically, the formula is:
> Surprise haymaker
> Fall to the ground 
> Eat kicks to the face


So, how do you train to stop a violent attacker from pounding you into the pavement?


Combat sports athletes will tell you to practice Muay Thai, MMA, or Brazilian Jiu-Jitsu.
Traditional martial artists will advocate that you study Kung Fu or Karate to learn the "ancient fighting secrets."
Combatives instructors will say you need to train in a reality-based system like Krav Maga to stop a bad guy before he can take you to the ground.
The problem is that each of these instructors can only teach you a portion of what's needed to survive a violent urban ambush.
They each have some of the ingredients for self-defense, but not the entire recipe for total personal protection, because ...
On the street, there are no rules, no belt rankings, and no weight divisions. 
We here at Tiga Tactics recognize that surviving an urban ambush requires a WELL-ROUNDED approach that works. Not just in theory, but on the streets.
That means having:
Effective grappling

Fight-ending strikes

Practical defenses against the most common attacks
That's why we're combining two of our popular programs — "Punch Defense 1.0" and "Antigrappling" — into one comprehensive event called the Street Combatives Seminar. 
That's right, you're getting TWO programs for the price of one.
This innovative 2-day, in-person seminar will offer practical and realistic training that's based on science, research, and how criminals actually attack.
At our event, you won't find sport-oriented techniques that only work on the mat.
Or flashy-looking combatives that fall apart after realistic pressure-testing.
Or martial arts myths based on outdated traditions.
Instead, you'll learn:
How to spot the warning signs of an urban ambush
How to stop a suckerpunch before it can knock you to the ground
How to stay dangerous if you do end up on your butt
How to get to your feet quickly (and safely) so you can flee or fight back.
And how to end a fight with these five primary strikes
And the best part is that this training is safe, fun, and effective.
This program is for anyone who's serious about learning the two most common scenarios in an urban ambush: defending against a surprise haymaker and stopping (or surviving) a takedown.
Whether you're a security guard working a dangerous assignment or a soccer mom who wants to know how to fend off a rapist, this 2-day event will give you the skills, the drills, and the will to come home safely.
The seminar is also ideal for military and law enforcement members who might find themselves in situations where shooting isn't justified. Or they've been caught off guard in bad-breath distance and can't deploy their firearm in time.
Also, this program will be a good refresher for boxers, grapplers, and martial artists who already have experience in the ring or on the mat, but are looking for a realistic perspective on how to apply their combat sports in a no-holds-barred confrontation on the street.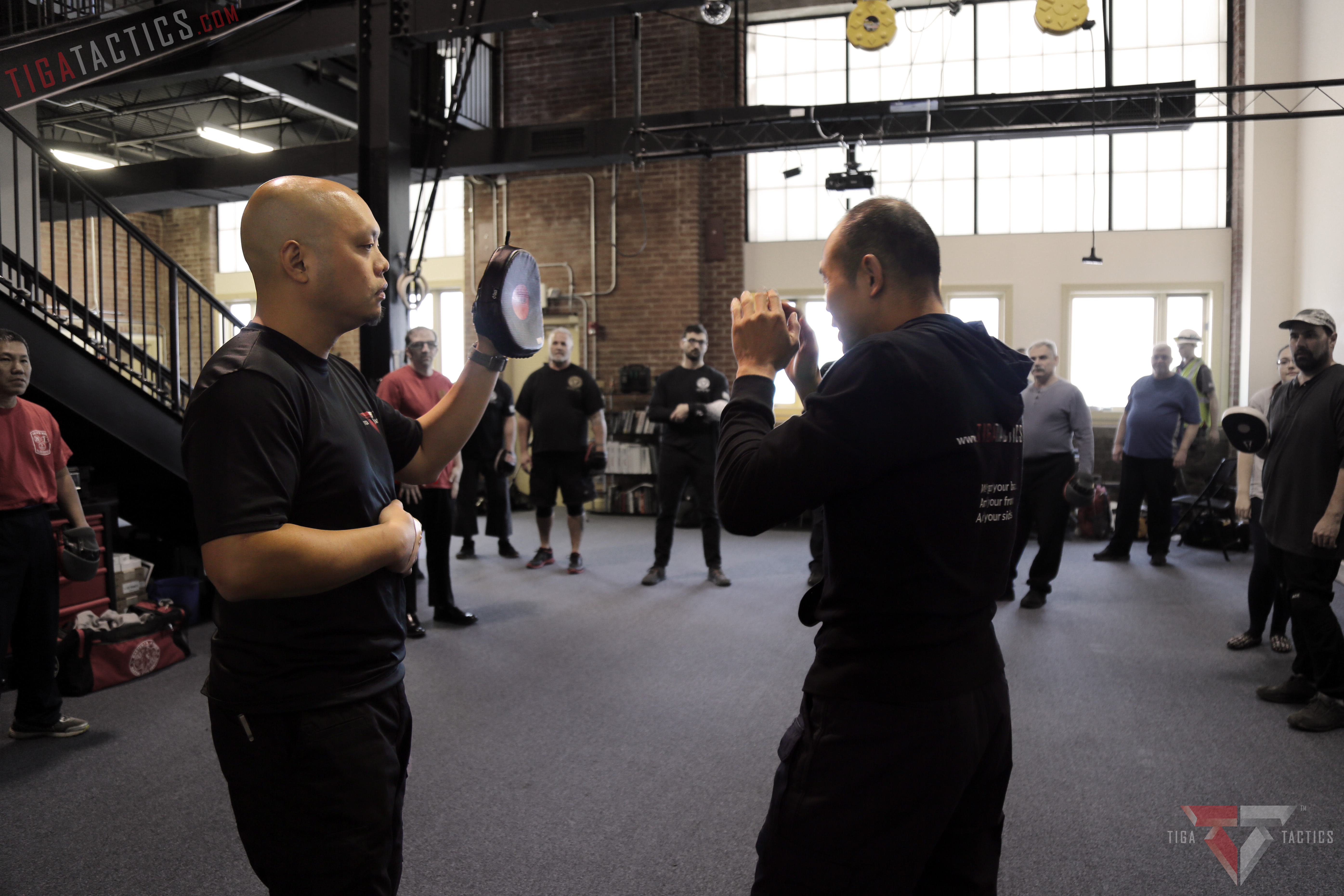 This live and in-person event will take place on Saturday and Sunday, October 21-22, 2023.
We'll be training at the following times:


Saturday:
Sunday:

9 a.m. to 12 p.m.
1-hour lunch break
1 p.m. to 4 p.m.
We will be training face-to-face at Rounders MMA Fullerton in Orange County, California:


Rounders MMA Fullerton
353 S State College Blvd
Fullerton, CA 92831


If you don't live on the West Coast, this is a great opportunity to pair up an innovative combatives event with an autumn getaway. 
Orange County is known for its beautiful beaches and delicious foods — not to mention Disneyland, California Adventure, and Knott's Berry Farm. 
Plus, a drive north up the freeway gets you to Los Angeles, where you can check out Universal Studios and the Hollywood Walk of Fame, just to name a few of the world-renown attractions.
So, come train with us so that you can work hard (in the gym) and play hard (at the theme parks)!
Antigrappler's Defensive Mindset
Individual Preparedness
Family Defense
How a protector thinks
Situational awareness
Positional awareness
Research & Life-Saving Knowledge

How to avoid being a victim
How to spot an incoming suckerpunch
How to spot a takedown attempt
How thugs, criminals, and the criminally insane use punches and tackles
Antigrappler's Skillset
How to protect yourself from jaw-shattering suckerpunch
The simple but counterintuitive move that'll help you control a violent attacker
The 5 fight-ending moves to put down almost any thug
3 simple (but not easy) ways to stop a takedown attempt
How to safely breakfall if you're caught off guard
Know how to do shoulder rolls safely and when to use them
The key concept to prevent your head getting stomped on while you're on the ground
Devastating strikes even if you're on your back
Learn how to get to your feet quickly and safely without getting your teeth kicked in
Realistic and progressive striking drills
Scenario-based pressure-testing


Dr. Conrad Bui
Co-Founder | Chief Training Officer | Chief Bone-Cruncher
Former bar bouncer and security professional
Brazilian Jiu-Jitsu black belt and gold medalist
Muay Thai coach at World Team USA
Guro (full instructor) in the bladed art of Kali

Guru Tua (advanced instructor) in the bladed art of Pentjak Silat Serak
Sigung (master-level instructor) in the bladed art of Kuntao Silat de Thouars
5th-degree black belt in Tae Kwon Do and American Freestyle Karate
A certified pistol instructor
A black belt in the Japanese sword art of Iaido 
Former Colorado State champion in sport karate


Doctor of Chiropractic


Patrick Vuong
Co-Founder | Chief Executive Officer | Chief Keyboard Monkey
Authorized instructor in the bladed art of Pekiti-Tirsia Kali

2nd-Degree black belt in Lai Chung Chuan Fa

1st-Degree black belt in Kenpo Karate

Certified pistol instructor
Instructor of women's self-defense since 2008

Former senior editor of Recoil Magazine, where he studied under former and current Special Operations Forces instructors in advanced tactical firearms, executive protection, and force-on-force training

Former columnist for Black Belt Magazine

Published knife reviewer since 2006

Our two-day, in-person seminars normally costs $300 per person.

However, for a limited time, we're offering admission to our seminar at deep discounts* based on a tiered system — rewarding those who reserve their slot early:

Early Bird Discount:
Now through October 11

$149 for both days

$79 for 1 day
Pre-Registration:
October 12 through October 20

$219 for both days

$119 for 1 day


At-the-Door Price:
$300 for both days

$130 for 1 day





NOTE: All members of Rounders MMA and Rounders MMA Fullerton will receive an additional discount on the lowest admission available at time of enrollment. 
To get the coupon code before you enroll, please email us at info [at] tigatactics [dot] com. 
(NOTE: Make sure to replace the [at] with the @ symbol and the [dot] with a period.)
But That's Not All!
Enroll today and you'll get the following FREE bonuses:
Access to Our Exclusive and Private Facebook Group (Value: $97): You will be amazed at the people actively participating in this group; like-minded individuals who discuss personal protection in a supportive and positive ways. No trolls here.

Unlimited Email Support (Value: Priceless!): Have a question? Something not clear? Simply email us and we will answer your question personally. We will not leave you hanging.
That's a seminar package valued at $397 ... for just $219
But act now before we reach our maximum capacity!
Can't make both days of training? We got you! Sign up for 1 day of training for only $119
Are You Eligible for Our Heroes Discount?
We're also giving an additional 15% discount to those who put themselves in harm's way for the greater good!
So, if you're an American or Canadian who is:
A first responder (i.e. a firefighter, paramedic, EMT, lifeguard, etc.)


Law enforcement  (sworn or civilian, from local to federal)
 
Military (active duty or reserve)


A veteran


A frontline healthcare worker (i.e. a nurse, doctor, tech, receptionist, etc.) …


 … you can get an additional 15% off the lowest available price. (Cannot be combined with any other promo code.)

To provide proof of your profession and get the coupon code before you enroll, please email us at info [at] tigatactics [dot] com. 
(NOTE: Make sure to replace the [at] with the @ symbol and the [dot] with a period.)
It's the least we can do for your service. But you gotta act fast because of ...

To ensure our high standards of instruction, and due to the size of the training facility, we're limiting enrollment to ONLY 25 students maximum. 
So don't delay — enroll now before we sell out! Hit the red button below.
Secure your slot for both days of training before we sell out!
Or sign up for 1 day of training for only $119
If you are not satisfied at any time during the seminar, we will refund 100% of your admission fee.
No questions asked. 
Seriously. 
That's how confident we are in how valuable you'll find our Street Combatives Seminar.
Evan Perperis
"Over the last two decades training for all ranges of combat in the military and the civilian martial arts worlds, I have not found a more practical and effective system.
"I not only took their full suite of online courses but have also attended multiple seminars to refine my techniques.
"Their system makes great material for seasoned instructors looking to share a combatives program to their students or for beginners simply looking to improve personal protection."
Black Belt Magazine
"At Black Belt Magazine, we've been keeping an eye on Tiga Tactics for awhile now. Why? They keep bringing us the 'state-of-the-art' in self-defense and combatives programs."
Dr. Scott Sobel
"I had the pleasure of having Conrad Bui at my school for a seminar, and the man is a national treasure. He draws from an endless pool of knowledge gathered from some of the greatest living instructors.
"His excellent teaching style made it easy to learn even the most advanced concepts. Whether you were a brand-new beginner, or seasoned high-level instructor, there was something for everyone."
Diego Herzog
"Grappling and BJJ are complicated subjects. Getting a black belt is not easy, and Dr. Conrad Bui earned his black belt the hard way from me. He put in his time on the mats and in competition. As the first student to earn a black belt from me, Conrad has a warrior spirit and is very technical in the ground game. His well-rounded approach to martial arts in general makes him a first-class professor. Oss!"
Jeffrey Han
"Patrick Vuong brings a wealth of martial arts experience paired with a practical mindset. He cuts the unnecessary fluff and gets to the methods and techniques that could one day save your life.
"Patrick is personable, patient, and truthful. He gives you the facts, and tailors the training to each student. His ability to break down complicated combative concepts into lessons anyone can understand is second to none. One of the best teachers I have ever had."
So What Are You Waiting For?
Enroll now and get the Pre-Registration Price. But you have only ...
Or sign up for 1 day of training for only $119